[Whoops, this was a draft that I had written up in February of 2022 but never published it and then forgot about it. Well, I figured I'd just publish it now because even though it's largely irrelevant it's better late then never?]
Yes, I'm weird. I can't decide between Android and iOS when it comes to mobile devices so I have both.
My Android phone was a OnePlus 6T up until this week when I decided to try Samsung's Galaxy line and went with the S22. I was thinking about the S22+ but the screen size at 170 mm was larger than the One Plus 6T at 165 mm, which I consider the max size of a phone, for me. The S22 comes in at 150 mm, which feels small but is about the same as my iOS device, an iPhone 13 Pro (155 mm).
This will also be the first Android phone where I don't enable root access.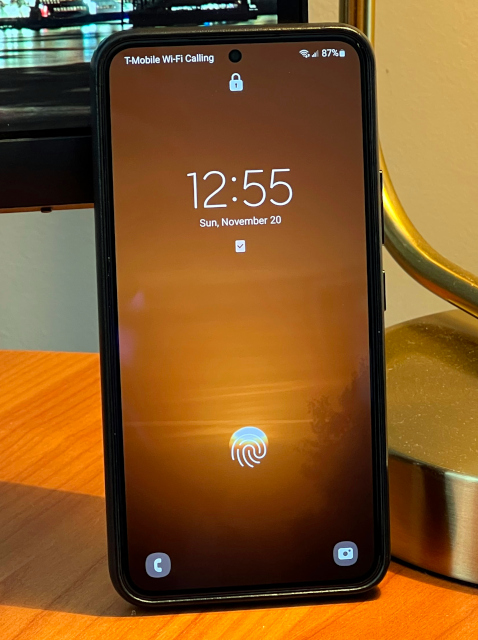 After a week with the phone and the Samsung-branded leather case, my first impressions aren't all that great:
It took me days to shut off and disable/uninstall the Samsung garbage apps and endlessly-annoying notifications & suggestions. The sheer amount of junk made it feel like buying a Windows 98 PC from the late 1990s from a shady manufacturer. I almost threw the phone out the window halfway through this process.
The biometrics (face and fingerprint authentication) are AWFUL. When comparing it to my other phones, iPhone 13 Pro >> OnePlus 6T > Galaxy S22. I'm surprised it's that bad. It's gotten to a point where I just don't expect them to work at all and always start to enter my PIN after turning the screen on. [Update 2022-11-20: The fingerprint authentication got much better after many months of updates but the face authentication is still mostly useless as it does not work most of the time.]
[Update 2022-11-20: The screen is slippery to the point that double tapping (to zoom or zoom out of Google Maps, for example) is a fail most of the time. It's the most slippery phone I've ever owned. I don't like the idea of screen protectors so I have just gotten used to it over time.]
I'm still able to turn off animations/transitions using developer options
without rooting, which makes the phone instantly feel 10x faster (if I couldn't do this, I would have returned it).
The camera performance is the best I've ever seen on a phone. The low-light/night photography blows away anything the iPhone 13 Pro can do. This is the best feature of the phone. However, the inability to have the camera application reset all settings to default (zoom level, night mode, etc.) on exit has me frequently yanking my phone out of my pocket to quickly take a photo and then scowling as I have to reset some setting before taking the shot.
The phone is very light. I'll compare against the iPhone 13 Pro since it's the same dimensions – it's 204g and the S22 is 167g. Even though it's light build quality seems to be good.
I'll get a better idea of battery life over the next month but it seems like it'll last a day and a half for me. It's got a bunch of battery/power options, though – I've left the setting at "optimized" for now.
Overall, I'm not too impressed with the S22. Maybe I'll try to re-record the biometrics to see if that improves things. [Update 2022-11-12: Nope, that didn't do anything, but software updates did help]